One of the new bands we enjoyed most 2018 was Civic from Australia. Punk label Anti Fade put out their debut 12" New Vietnam in the beginning of the year filled with seven punkers that really carry the tradition of Australian punk and sending it right into the future. Then in the end of the year they released the 7" EP Those Who No which, while carrying the same punch, is a way more poppy affair. Changing the recipe just like a salmon swimming upstreams. I wanted to know more about how they cook their stuff so I mailed some questions to bassplayer Roland Hlavka.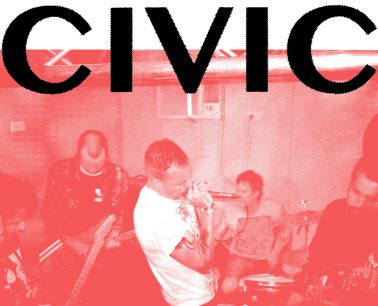 Who are Civic and for how long have you been a band?
Great band from Melbourne, Australia. 1.3 years.
What bands did you all come from before Civic?
Leather Lickers, Drug Sweat, Cuntz, Midnight Oil, AD Skinner, Powderfinger, Pregnancy Scares, OutKast, Whipper, Barbiturates, Cobwebbs, Paul Kelly, Polish.
I read a review of your debut 12" New Vietnam that stated you guys as one of the more Australian sounding bands going at the moment which I can kinda agree with. Are you influenced by older Aussie bands and if so any bands in particular?
Yes. Australian music is good. We are good. Lots of people like it. We like it. People like us. Mainly influenced by older Australian bands. But also influenced by older bands from the whole world. We are a world band. It's crazy that you have to add salt to fish when you're cooking them. Especially ones from salt water. Been marinating their whole lives but not really salty enough…
And regarding the question above which bands/records have influenced your sound the most?
King Tubby - The Roots of Dub The Clash - Double CD Set 'Greatest Hits' Song: Madonna - Ray of Light Paul Kelly Flip Sorry Metallica Documentary Repo Man First Matrix The Good Fellas The Sopranos Everybody Loves Raymond The Stooges Mobb Deep - The Infamous Winona Ryder Kate Moss Tyra Banks Elizabeth Hurley Eddy Current Suppression Ring Gnocchi with pesto and bacon Salmon steaks Espresso Martini's Sometimes chicken laksa Radio Birdman The Saints Sometimes I even put mayonnaise on my salmon steaks to mix with the oil that comes out. Chuck a few capers on there and some dill. Side of asparagus fried in butter and maybe a mint, parsley and zucchini salad. Obviously using some salt and pepper throughout. Couple of chilli flakes. Bit of garlic but not too much. Feel like some people go full on with the garlic. I'm more about subtlety. I like hints.
From the little we get to hear about your continent over here there seems to be a pretty decent punkscene going on with plenty of great bands and labels. Do you have any favorites and which ones do you feel most connected to?
Yeah good as punkscene. Antifade Records is good. There's probably a bunch of other good ones. I'm sure if you look up Australia's decent punkscene you'll find a bunch of good stuff. I've been getting really into cooking at home again. Big fan of wrapping salmon fillets in alfoil, chucking in some lemons, capers, dill, black and white pepper, rock salt (salt the fuck out of the salmon hell yeah) almond slices, bunch of olive oil, chuck it in the BBQ for a bit. Don't need too much fancy stuff to go with it. Maybe some boiled potato slices with some butter. Lightly salted. Some rocket or baby spinach. Chilli flakes again. Big fan of the mid cook chilli flake sprinkle.
New Vietnam is definitely a punk record even though it carries plenty of hooks but the new EP has really poppy structures to the songs. What influenced you to take this direction?
Thought it'd be good to make a poppy seven inch because we did a punk one first. Wanted to give em a bit of diversity. We're working on new stuff and that's pretty good. Don't know what you'll call it.
There's a cover of Needle In the Camel's Eye on it, are you big Eno fans?
Yeah Eno is pretty good.
What does the future hold for Civic? Any new records planned and what about tours in Europe maybe…
Yeah we got more records coming out. Pretty good ones. I'm enjoying what we're doing. We're gonna go to Europe. Paul Kelly wants us to tour with him over there. Europe's probably pretty good. Dunno the best way the Europeans cook salmon. Hopefully it's good and you don't just eat it out of a can on toast or something. You europeans have a pretty long history. Probably got your own ways of cooking that stuff up pretty good. Pretty keen to try it. If anyone wants to talk to me about salmon I'd be interested. Hit me up. Cheers.