Contact us
SAVAGE C/O HILDEBRAND
FARSTAV. 89 (8 TR)
123 34 FARSTA, SWEDEN
THOMAS: thomas AT savagemagazine.com
MARTIN: martinsavage AT comhem.com
Magazine
The issues thus far: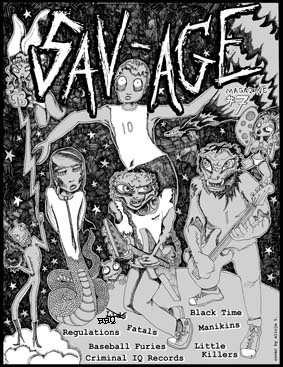 #7 - Baseball Furies, BBQ, the Fatals, Black Time, Regulations, the Manikins, the Little Killers, Criminal IQ Records
#6 - Featuring Crypt superstars the Little Killers, a bunch of Detroit-bands: the Come Ons, the Soledad Brothers, Bantam Rooster and the Gore Gore Girls, Tina Luchesi (Bobbyteens, Deadly Weapons), Skip Jensen One-man-band
#5 - Featuring Texas punkrockers the Reds (USA), superstarlet D'lanaTunnel (USA), Savage records superstars Coastersride (Jap), DaylightLovers (Can), harmonica maestro Walter Daniels (USA), the Scat RagBoosters (Can), the White Stripes (USA), the Maggots (Swe) and newlyadded the Pagans (USA) story by singer Mike Hudson.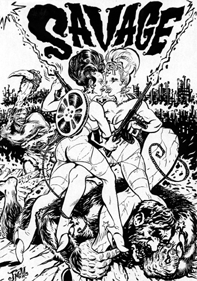 #4 - Bantam Rooster, the Gories, DM Bob & the Deficits, the Dirtys, JMM, In The Red Records, the Necessary Evils, the Blowtops, the Persuaders, Action Swingers, Reatards, Bassholes, loads of reviews and covers by both John Michael McCarthy and Mr. Bratto!!! SOLD OUT!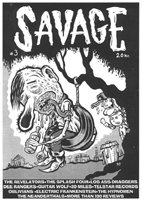 #3 - The Revelators, Oblivians, Guitar Wolf, 20 Miles, Los Ass-draggers, Telstar Records, Dee Rangers, the Hypnomen, the Neanderthals, ElectricFrankenstein, the Splash Four and much more…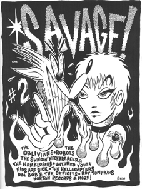 #2 - Oblivians, the Swingin' Neckbreakers, the Robots, the Hellacopters, Roy Tompkins, the Namelosers, Kid Are Sick, Norton Records, DM Bob& the Deficits, Untamed Youth and more!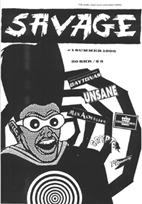 #1 - Crypt Records, Max Andersson, Daytonas, Chokebore, the Hi-Winders and Unsane.
Record label
SAV7001 - X-Rays! "Crawling Back to Vegas" 7" (October 1998) 750 pressed.
SAV7002 - Dee Rangers "Fall Down" 7"  530 pressed
SAV7003 - The Blacks "(I) Gotta Go Now!" 7" (October 1998) 750 pressed.
SAV7004 - The Blowtops "Manic Murder Marla" 7"  (October 1998) 500 pressed
SAV7005 - Coastersride "Fuck You!" 7" (October 1998) 750 pressed
SAV001 Persuaders s/t LP (Summer 1999) 1000 pressed
SAV002 The Hollywoods S/t LP (Winter 2001) 500 pressed
SAV003 - King Louie One Man Band "Jesus Loves My One Man Band" LP (February 2002) . 500 pressed co-releasew with Kryptonite Records
SAV7006 - Scat Rag Boosters "I'll See You Dead" 7" EP (March 2003) . 250 numbered copies. Co-released with Kryptonite Records.
SAV7007 - Sons of Cyrus "Nobody but Me" 7" (December 2002) 400 numbered copies
SAV7008 - The Locomotions "Tell Her" 7" (December 2002) 400 numbered copies
SAV7009 - The Heartattacks "Challenge You" 7" (March 2004) 500 copies
SAV7010 - Handsome Stranglers "Mad Man Stomp" 7" (March 2004) 500 copies
SAV7011 - Reverend Savage & His Holy Rollers "You Got To Believe" 7" (November 2004) 400 copies including a numbered edition of 64 copies.
SAV7012 - Ghetto Ways "Winks & Blue Eyeshadow" 7" (2006)
500 copies, co-released with Wicked Singles
SAV7013 - Haunted George "The Buzzards Ate His Flesh" 7" (November 2008) 500 copies including 100 on green see-thru vinyl
SAV7014 - Original Three "At a Loss" 7" (January 2008) 500 copies including 100 on clear see-thru vinyl
SAV7015 - Cheap Thrills "S/t" 7" (January 2008) 500 copies including 100 on blue vinyl
SAV7016 - MOTO "Blast of Silence" 7" (Spring 2007) 500 copies, co-released with Radio Obligato Records
SAV7017 - River City Tanlines "Modern Friction" 7" (January 2008) 600 copies including 100 on red see-thru vinyl and 6 on yellow vinyl
SAV7018 - Forbidden Tigers "Colonial Freakout" 7" (January 2008) 500 copies including 88 on orange see-thru vinyl and 12 on brown see-thru vinyl
SAV7019 - Guinea Worms "Jeans and Heels" 7" (November 2008) 500 copies
Shows
We've set up shows with names such as THE SPITS, A-FRAMES, PAUL COLLINS' BEAT, OBLIVIANS, REVELATORS, GUITAR WOLF, SPACESHITS, TOKYO ELECTRON, LOS ASS-DRAGGERS, X-RAYS, ANGRY ANGLES, REATARDS, BLACK TIME, LOST SOUNDS, BASSHOLES, GHETTO WAYS, HYPNOMEN, FLAMING SIDEBURNS, BLACKS, DIXIE BUZZARDS, SONS OF CYRUS, HENRY FIAT'S OPEN SORE, DRAGS, REV. SAVAGE & HIS HOLY ROLLERS, BBQ, MAGNETIX, NEW BOMB TURKS, ROBOTS, DEMONS, VOLADORAS, KAMEN RIDERS, TOKYO KNIVES, LOCOMOTIONS, HUNCHES, VIVA L'AMERICAN DEATH RAY MUSIC, KAJUN SS, MAKEOUTS, REGULATIONS, DEMON'S CLAWS, DIRTBOMBS, KING KHAN & THE SHRINES, WOGGLES, MANIKINS, HOLLYWOODS, DEE RANGERS, SCAT RAG BOOSTERS, MONKEY LEE KNOCKOUTS, KAMIKATZE, LOCAL OAFS, MSSR JEFFREY EVANS, HEARTATTACKS, HANDSOME STRANGLERS, BAD MONKEY, BLACK LIPS, CRYPTKICKER 5, PIPELINES, NOMADS, MOJOMATICS, RIVER CITY TANLINES, RIVERBOAT GAMBLERS, TURPENTINES, MAGGOTS, KNAUGHTY KNIGHTS, DIE RÖTZZ, DRAGS, CLOROX GIRLS, TAV FALCO & PANTHER BURNS, KING KHAN & BBQ SHOW…
Recommendations