Tuesday November 18 2008 20:00
DZ, Alleycat & Savage ger Krille…
DZ-KRILLES BIRTHDAY BASH
Kom i tid - GOODNIGHT LOVING står på scen 20.15!!!!!!!!!!!!!
Live:
THE GOODNIGHT LOVING (usa) JACK OF HEART (france) THE MAGNETIX (france)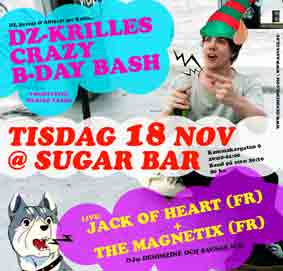 På scen, från Frankrike MAGNETIX och JACK OF HEART. och från USA - THE GOODNIGHT LOVING
MAGNETIX Tänk Hasil Adkins sjungandes i 13th Floor Elevators eller att Sonics skulle vara ett rockabillyband. Dom hämtar inspiration från Dean Carter, Mummies, Oblivians, Gories och Music Machine och bankar med bara trummor och gitarr ihop det till rockmonstret som är Magnetix!
JACK OF HEART Malande, oväsen-garage i samma anda som Black Lips, Gun Club, Oblivians. Medlemmar från Demon's Claws och Creteens. Debut LPn kommer på In The Red våren 2009.
THE GOODNIGHT LOVING Som ett mer country-svängigt Reigning Sound. Ny platta ute i höst på Dusty Medical/Wild Honey och ny sjua ute nu på Contaminated.
Tisdag 18 november @ Sugar Bar
Kammakargatan 9 20:00-01:00 Band på scen 20:15 80 kr