IN THE RED RECORDS' new releases for Fall '08
Commented on by ITR headhoncho, Larry. Enjoy!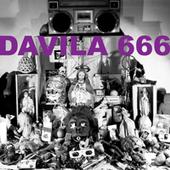 Davila 666
I met these guys through Haunted George. They were coming through town and wanted to play with him. When HG told me he was playing with a band called Davila 666 from Puerto Rico I thought they might be some kind of a Satanic metal band. Turns out they were a really great rock n' roll band. They gave me their demo the night I saw them and it was actually my girlfriend who fell in love with it to begin with and she urged me to take a closer listen. Those VU/Mary Chain ballads are something else!
Jay Reatard Singles '06-'07
Jay has been one of the shining stars on my roster for years now. The guy is a fucking musical genius. Of course it was only a matter of time before even people at major labels figured this out. Jay had labels (including Universal!) in a bidding war for his services. Luckily he wound up on Matador instead of something really lame. Anyway, this compilation was something we were planning to do for a while and it turned out to sort of be ITR's parting gift from Jay before he went on to greener pastures.
Lili Z
Lili is, of course, one third of Volt, who I did a 12" and an album with. This is Lili's solo record done entirely by herself at her home studio. It's sort of her Blood Visions. She is another brilliant musical talent who can do anything. I love this album.
Strange Boys
Jay Reatard was touring with these guys and told me that I needed to check them out. I did and I dug them and signed on to do their album. To me, they sound like a cross between early Stones and Dylan's electric era. Snottier than either, of course. They have a song called Should've Shot Paul which is about how the wrong Beatle was murdered! Oddly, the song has really Beatle-esque backing vocals.
Vivian Girls
My good friend in NY, Mike Sniper, told me about this band. I bought their 7" and fell for them big time. I was told they had an album coming out on another label and I wound up buying it off that label so I could have them for myself. I'd never done that before. They're incredible.
AH Kraken
Jack from Volt told me, "AH Kraken are the best band in France". I take Jack's word very seriously. He told me they were "terrifying" live. I was sold before I heard them. I heard them and got even more sold. A lot of people in France told me that the guys in AH Kraken were not the sort of guys you wanted at your house party - they're known to wreck havoc. This made me like them even more.
Cheap Time
I met Jeff Novak at a Redd Kross show. He was with Be Your Own Pet - his girlfriend was the singer of that band, Jemina Pearl. He told me that he had a band with her called Cheap Time. They sent me a demo which was really cool, bratty punk ala early Redd Kross. I told them I'd do their album. Just before they were supposed to record the album Jeff and Jemina broke up and she left the band. While Jeff was figuring out who/how to replace her he'd sent me a demo of another band he was going to do called the Peoploids. This stuff owed way more to early Sparks, The Quick and glam rock. I liked it way more than I liked the original Cheap Time material. I convinced him to morph the two bands together and the result is the Cheap Time album. Jeff's new songs are even better than the ones on the first album. Album number two is going to be a monster.
Coming up next on In The Red is new albums from Black Time, Submarine Races, Mystery Girls, Reigning Sound, Haunted George, TV Ghost, Intelligence, Hunches, Christmas Island and more to be announced!
www.intheredrecords.com
www.myspace.com/intheredrecords