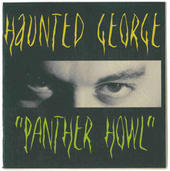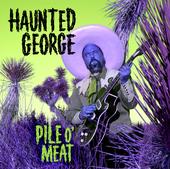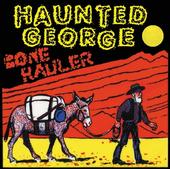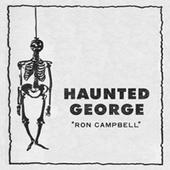 Where'd you get the name "Haunted George"?
George is my middle name. It's been passed down from on father's side of the family. My Grandfather and Great Grandfather had it and I got it as a middle name. I was reading a book by Herbert Asbury, the author of "The Gangs of New York", and when I read books I usually keep a notebook with me and jot down things that I find interesting. Herbert Asbury's books are loaded with really unique aliases and nicknames and I made a list of these as I read. I took this list of old aliases and then started making up my own that sounded similar. Haunted George was among some of the names that I made up. There's a song that I wrote called, "The Aliases of Haunted George" which is basically me reading that list while playing an instrumental. Some of the other names were Butcher George, Snag Butler, Mojave George, The Hangman, and Doctor Yah-Yah… stuff like that.
Your interest in the macabre really shows… What go you into that?
I was always into horror and weird, spooky stuff. When I was a kid, monsters were really prevalent in American popular culture. There were breakfast cereals based on monster characters like Frankenberry, Count Chockula and The Freakies. There were monsters on Saturday morning cartoon shows. TV shows like The Twilight Zone and The Outer Limits were being rerun everyday. You could still get Famous Monsters Magazine at supermarkets. There used to be old monster movies on TV all the time. It was a great time to be a kid if you liked monsters. Monsters were the "gate-way drug" that got me into harder horror, gore, splatter, slashers, Satanism, serial killers, and mass murderers… It just keeps evolving really.
What are your favorite movies, books, and comics?
Horror, Western and Film Noir are my favorite film genres, but I like a lot of G-rated kiddie stuff and most any animation from the 20's to 50's. Also, there's nothing like a good Documentary film. Truth really is stranger than fiction. That being said, here's a list of some of my favorite movies off the top of my head. This list would be different if you asked me this question a week from now but here goes….
Night of the Living Dead (1968) George Romero captured lightening in a jar here. He spent the rest of his life trying to do it again and it never really happened. I still watch this movie at least once a year. I own the soundtrack, which is mostly a bunch of old 1950's American International stock music, but this one kills.
Don't Go in the House (1980) I saw this in a drive-in theater as a kid. My older brother got his driver's license and had a 70's van! I think I'm the only person I know that likes this movie. A creepy guy lives alone in a huge house with his dead mother just like in Psycho. He catches women, puts them in a metal lined room, strips them naked, lights them on fire, and then dresses the charred corpses up like they having a tea party and talks to them.
![]()Mesa of Lost Women (1953) An amazing "bad-good" movie that many people still think was done by Ed Wood Jr. It's got a great cast with Jackie Coogan, Chris-Pin Martin and Dolores Fuller. There's a great guitar soundtrack that runs through the whole movie. Watching this movie is like being on drugs.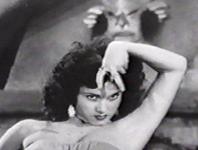 The Searchers (1956) John Ford and John Wayne made a bunch of great westerns together and they're all good but this one is my favorite. It's one of those big budget Hollywood movies that really works.
The Brainiac (1962) A Mexican Barron turns into a crazy looking monster and then sucks the brains out of his victims. My favorite Mexican horror film is this one, but like with John Ford, they're all really good. A company called CasaNegra just started putting these out on DVD and they look great. You can get the original Mexican versions or the U.S. (K. Gordon Murray) versions.
Texas Chainsaw Massacre (1974) This is like Night of the Living Dead in that Tobe Hopper never did anything quite as good after this one. This is the quintessential, cannibalistic, family hillbilly movie.
Mystery Ranch (1933) Charles Middleton (Ming the Merciless in the old Flash Gordon serials) is the bad guy in this 1930's B-Western that feels a lot like a horror movie. Middleton lives in a big, dark, Spanish Hacienda. He has two hulking, mute killers that work for him. One is a Mexican and the other is an Indian. They're almost like zombie/monsters that have been hypnotized by him but they never say that. Middleton sits at his organ and plays just like the Phantom of the Opera.
House of Frankenstein (1944) I love all the Universal Monster movies of the 30's and 40's and this one has all the monsters in one film; Frankenstein, Dracula, and The Wolf-Man. It cast includes Boris Karloff, Lon Chaney Jr., John Carradine, and Glenn Strange! The only thing missing is Bela Lugosi.
For a Few Dollars More (1965)This is my favorite Sergio Leone film of the "Man with no name" Trilogy.
Santa Sangre (1989)Alejandro Jordorowsky's film that feels at times like a Todd Browning movie.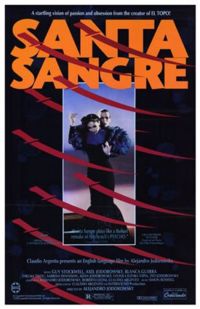 Books:
I'm really more of a non-fiction reader when it comes to books. I like history a lot. Specifically I like American History; the old west, The American Civil War, Mountain Men, American Indians, the Revolutionary War and stories like that. I love biographies. I really love biographies of musicians and other artists. I love True Crime. I don't read as much fiction as I'd like to. I do like classics when it comes to fiction. I love Mark Twain, Ambrose Bierce, Washington Irving, Edgar Allen Poe and H.P Lovecraft. When it comes down to the choice between fiction and non-fiction I usually always go with non-fiction. I did start rereading a bunch of fiction that I read back in my teens and early twenties and I'm having a good time with it so I am starting to read more fiction. I did just come across my grandpa's collection of Louis L'Amour and Zane Grey novels. I've enjoyed the little bit that I've read so I think I'm going to jump into that next.
Some of my favorite books are:
"Captured by the Indians: 15 Firsthand Accounts, 1750-1870" by Fredrick "The Barbary Coast" by Herbert Asbury"The Sketch Book" by Washington Irving"Country: The Twisted Roots of Rock 'N' Roll" by Nick Tosches"The Adventures of Huckleberry Finn" by Mark Twain"Ghost and Horror Stories" by Ambrose Bierce "High Priest of California" by Charles Willeford"The Satanic Witch" by Anton Szandor LaVey"Wisconsin Death Trip" by Michael Lesy,"The American West" by Lucius Beebe & Charles Clegg
"The 60 year old wife of a farmer in Jackson, Washington County, killed herself by cutting her throat with a sheep shears"

from Wisconsin Death Trip
Comic Books:
As far as comic books go, I started as a kid when comics were still sold at grocery stores and 7-11s. The first stuff I got into was Marvel Superhero comics. I was into Jack Kirby and John Romita's drawing style early on. I used to trade comics with guys up the street and they used to think they were getting a deal me when they'd trade me 2 of their old 15 cent "
Where Monsters Dwell" comics for one of my newer comics. I really got into those Marvel monster comics which were really just reprints from 1950's and 60's stuff. They had tons of art by Jack Kirby on Steve Ditko in them. Also during this time, my older brother would buy comics, read them and then throw them out after a while. From him I got Weird War, The Haunted Tank, Sgt. Rock; a lot of DC war stuff which I really enjoyed. In recent years I bought all those EC reprints; Vault of Horror, Tales form the Crypt, Haunt of Fear and all the crime/suspense and science-fiction titles. I also got a bunch of these reprints of the early 50's EC rip-offs like This Magazine is Haunted, The Black Cat, and that stuff is great. I'd love to collect it, but it's like 50 to 100 dollars an issue now.
Some of my favorite comic books are: Weird War Tales (DC comic from the 1970's),Weird Western Tales (DC comic from the 1970's),Vault of Horror (EC comic from the early 1950's),Tales form the Crypt (EC comic from the early 1950's),Haunt of Fear (EC comic from the early 1950's),Fantastic Four (the Jack Kirby stuff – Marvel comic mid – 1960's),Mister Miracle (Jack Kirby DC comics 1970's),Dr. Strange (the Steve Ditko stuff- Marvel comics early 1960's), Where Monsters Dwell (Marvel comics 1970's reprints from early 60's), Terror Tales, Weird, Tales from the Tomb (Stanley reprint comics late 60's early 70's)This Magazine is Haunted, Chamber of Chills, Witchcraft, Strange Fantasy and many other titles (Pre-code early 1950's horror).
What's stuff that you would really recommend?
Movies:Anything from the following DVD labels: Something Weird Video, Casa Negra, Mondo Macabro, and Gindhouse Releasing. I know there is more.B-Westerns from the 1930's and 40's; Gene Autry, Roy Rogers, Hopalong Cassidy, Tex Ritter and Lash LaRue.Spaghetti Westerns from the 1960's and 70's: the D'Jango series, Lucio Fulci's "Four of the Apocalypse", "Cut Throats Nine" and many others.John Ford movies.Anthology Horror/Thriller TV shows on DVD; Outer Limits, The Twilight Zone, Alfred Hitchcock Presents, Thriller, One Step Beyond, The Night Gallery and Tales of Tomorrow.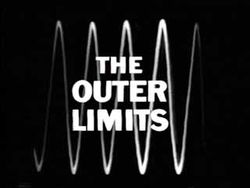 Books & Comic Books:Marvel & DC Reprints… they around $15.00 and you get about 500 pages of stuffPre-Code Horror Comics… if you can find them in reprint otherwise it's too expensive for me.
Audio:The "Forbidden Planet" SoundtrackRadio Shows from the 1930's to 50's; The Weird Circle , The Hermit's Cave, The Inner Sanctum, The Whistler and many more.
I would recommend most anything off the following labels; Norton, Crypt, Bear Family, Goner, Hook or Crook, In the Red and Yazoo. Again, there are many more.
What kind of stuff gets you inspired? Movies… moods… locations…
I get really musically inspired by hiking. I like to climb mountains. It has to be a long hike where I am by myself for it to work best. It's great! You're getting a workout in a remote part of nature. It's meditation for me. It's a great place for my brain to process things. It's religious, like going to church. I always come back from a long hike full of ideas and feeling like playing guitar even though I'm tried. I notice too that I come up with a lot more material when I play in the morning. I don't know why that it. That's what's great about being a one man band. I could never get other musicians to play with me before noon.
Do you read/see a lot of horror stuff or do you get your fill from doing it yourself?
I usually watch at least a couple of Horror films a week. I do a lot of long drives and am always have some horror movie soundtrack or radio shows with me. I love to read when I get the time to just sit and do nothing. Other than that, I guess I just surround myself with it at my home and it doesn't seem weird to me. I started building old west style toe pincher coffins just for fun. I made some into shelves and others just sat around and I used them for storage. These neighbors dropped over to our place a while back ago and I could tell they were bothered by them. I told them that they were "prop" for a film I was making and they seemed more at ease. My place doesn't look like the Munsters house or Frankenstein's Castle but it does kind of look like the ghost town at Knott's Berry Farm.
What other kinds of 'pop culture' do you like?
I think that most modern "pop culture" is just depressing. I've thought that way forever though. I gave up on popular culture many, many years ago. I work at jobs and people will ask me if I watched a certain TV show the other night and I won't know what the hell they are talking about. I pretty much watch my own DVDs or stuff that I rent on Netflix. It's the same thing with music. I have no idea what's on the Billboard charts. I haven't since I worked in a record store. I go to the movies maybe a couple times a year. The last time I was in line at the grocery store I looked at the tabloids and didn't know a lot of the people that they were referring to. I think some of them were American Idol "stars". Some time in the late 1970's American Popular Culture just really went to shit. It had already been nose-diving since the mid-60's, but by the 1980's pretty much everything was bad. Now you see fat guys walking around in public wearing basketball jerseys and flip-flops. Women wear sweat suits and sneakers. Everybody has really stupid tattoos that they just got in the last couple of years. Everybody thinks it's cool to act like they're 17 years old even though they're really fucking old baby boomers. It's pathetic. I say all that but on the other hand, there's stuff out now that you can buy at major chain stores that 10 or 15 years ago was really impossible to find. The popular culture that you see on television is terrible but beneath that you've got access to all kinds of really amazing stuff. I try to live in my own world as much as I can. I collect a lot of old radio shows. I have lots of cool horror shows like Lights Out, The Witches Tales, The Weird Circle plus a bunch of stuff like Dragnet and Have Gun will Travel. I love theme parks and theme hotels. Some amusement parks are really just places with roller coasters and rides but a theme park tries to create a certain environment and that what I really enjoy whether it's done good or bad.
What are your favorite bands?
Bob Wills and His Texas Playboys is probably my favorite band as far as consistency and quality goes. I can listen to them anytime too, morning, evening, whatever. I guess I like more single personalities than bands; Elvis, George Jones, Hank Williams, Link Wray. Some of my favorite bands over the years would be Black Flag, The Cramps, The Thirteenth Floor Elevators, The Rolling Stones, The Ventures, Fireworks and The Cheater Slicks just to name a few.
Are there any 'horror' bands out there that are good, current and past?
Not that I can think of. I mean most everything that I've heard that calls itself horror for some reason is really cheesy and just not that good. It usually sounds like a watered-down, over-produced version of either The Ramones, The Cramps or the Misfits mixed with the B-52s and the lyrics are always just the titles of some horror or science-fiction movies strung together. There's a real formula to it that people just seem to follow very strictly. People that do it really don't like horror down in their hearts. They like the "evil looking" guys in Buffy the Vampire Slayer or the Lost Boys or something. They like the idea of being into horror but they're really that into it. I think of the Cheater Slicks as more of a horror band in a lot of ways. They're very dark and can be really despressing. They're like serial killers with instruments. They sing more about real life horror and depression than monsters though. Roky Erickson and John Zackerly are my favorite musicians that would be classified as "horror".
Where do you draw most of your inspiration as far as music goes?
Vagina.
Tell me about your debut album. Did you record it as an LP or is it just home recordings and such?
I record each song at a time and then piece it into a collection. So far everything has been somebody asking to put out an LP or a 7" single. In some cases I already had everything I needed just sitting there. In other cases I've said, "Hhmmm I'm going to have to round up another song or two". But I approach each song, individually, like it's going to be on a 45 rpm single. You never know where songs are going to end up so you can't go wrong that way. The noise stuff, on the otherhand, is more LP oriented but I really haven't put out an official Haunted George noise/soundtrack record even though I have some ready to go.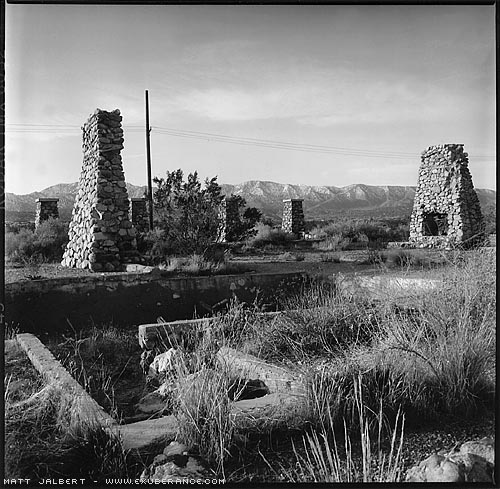 Have you ever tried recording outside in the desert?
I've practiced outside a lot. It's harder to record. The sound kind of hits the open air and dies in the open desert. It needs something to bounce off. If I had some more sensitive microphones I'd love to record right next to this place near my house where even if it's just slightly windy you can hear the wind whistle. It sounds like every Spagehtti Western you've ever seen. I'm going to do something in the near future were all my stuff fits into a backpack or at least 4-wheel it out to a proper location. There's an old mine shaft that I know of. It's miles and miles right into granite. The echo is incredible but there's water dripping out all over the place in there.
Haunted George on MySpace Butcher's Floor - Haunted George's blog