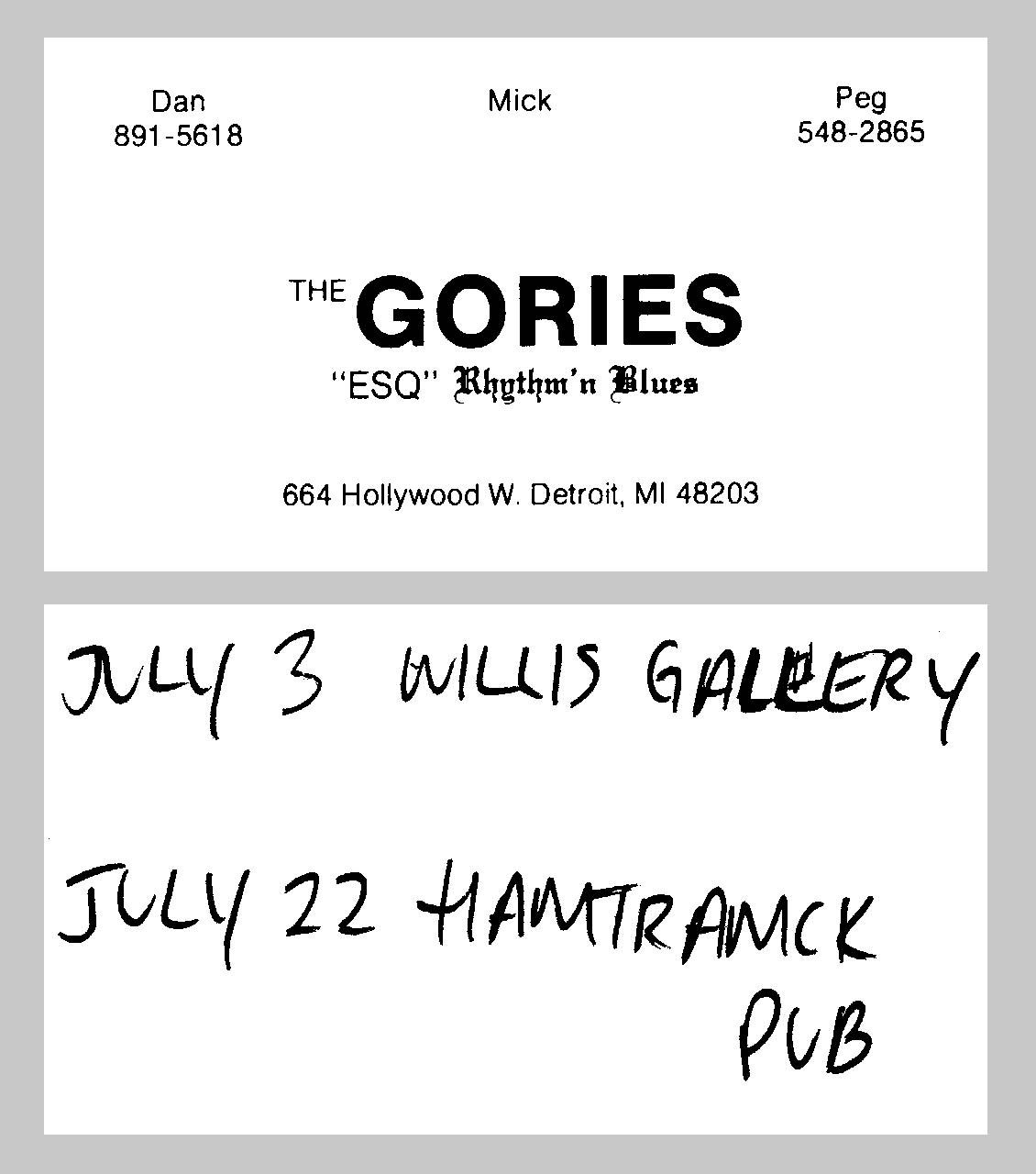 The Gories Story part 2 – DAN KROHA
The Gories from Detroit almost singlehandedly created the raw and primitive style of garagerock. Dan Kroha played guitar together with Mick Collins (later in Blacktop, now in the Dirtbombs), on drums you find Peg O'Neill who later relocated to New Orleans and played with the Darkest Hours who are now defunct. Dan was also in the Nervobeats, Rocket 455 and Demolition Doll Rods.
How come the Gories got started?
How come we decided to start a band? Well no one was playing music the way we wanted to hear it. We wanted really fucking primitive stuff. Bands would call themselves primitive, but we wanted to show 'em what that word really means. Also we wanted to really show 'em what rhythm and blues means. No one was doing it the way we wanted to hear it, so we decided that we just had to do it ourselves.Main inspirations would be Chess blues: Howlin' Wolf, Muddy Waters, Bo Diddley. Sun Blues: Little Junior Parker, Dr. Ross, Joe Hill Louis. Obscure greaser rock instrumentals: Lenny and the Thundertones, Link Wray, The Thunder Rocks, Nick and the Jaguars. Garage punk comps: Back from the Grave, Scum of the Earth.British and European R&B/Freakbeat: The Eyes, The Birds, The Creation, The Syndicats, The Motions.Detroit proto Soul: The Contours, Gino Washington and the Atlantics. The Velvet Underground, and of course John Lee Hooker.
What were the early rehearsals like? How did you come up with the sound you wanted?
Well we would set up in Mick's parent's basement or the basement of my parent's house and just play. Mick would have an idea for a song and I would add a part to finish it. Or vice-versa. Mick would teach a drum beat to Peg and we would play it until we got it to sound pretty good. Mick had a 60's Silvertone amp and a cool sounding cheapo 60's Japanese guitar. I had a Vox AC-30 and a '64 Fender Jaguar. Peggy played some cheap Japanese drums from the 60's. There was no snare drum, bass drum, or cymbals. Just tom toms to get that Bo Diddley jungle beat. We had cool weird equipment and that's just how we played, We sounded like the way we played. We were really inexperienced so we had to work around our ineptitude. Basically we could barely play our instruments so we had to strip each song down to it's most basic and simplest components in order to play it. That's The Gories sound!At first one of us was going to play guitar and the other bass, depending on who wrote the song, but we discovered after a couple of practices that I was really good at playing chords and Mick was better at playing leads so between the two of us we were almost as good as one guitar player! We really didn't know until later on that there were other bands before us that had no bass.

What was the musicscene like in Detroit backthen? Was there any band that you felt close to musically?Did you go out oftown for a lot of shows?
Detroit at the time (mid to late 80's) had all kinds of bands, metal and hardcore punk probably being the most well represented. There were also a couple of weird arty noise punk bands, a couple of good rockabilly bands. There was one great surf band called the Zombie Surfers, a sort of garage-y hard rock all girl band called The Vertical Pillows that Mary from the Detroit Cobras was in, and one GREAT "Pebbles" style garage band called The Hysteric Narcotics. There was a real difference to me between "Pebbles" style garage and "Back From the Grave" style garage. There was no one that we knew of in detroit that we felt close to. The only bands that we felt shared the same aesthetic at that time were Thee Mighty Ceasers and the Nights and Days (from Seattle).
*Len Puch: Whatsthere to say???? They were the coolest band around Detroit while they existed.Stripped down outta tune and always rockin'! We recorded "HouseRockin" in an all tin wall garage…for the natural reverb. All livetracks…including vocals as I remember. When I think of over-dubbing…the Goriesdon't come to mind. They did it the way you're supposed to…WRECKLESS ! (Summer 1998, via e-mail)*
We didn't really tour. We played New York City and about 10 people showed up. We also played Chicago one time with The Gibson Brothers and there were 10 or 20 people there. We ended up playing New York City two more times and did get a decent crowd (50 people or so). We didn't tour enough to have any crazy stories!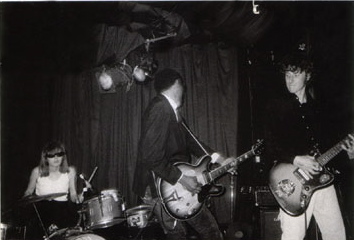 The Garageland comp was the first thing you released right?
Yes the Garageland comp was the first release. We recorded those songs a few months before the sessions for the first LP.
What was it like going down to Memphis to record with Alex Chilton?
The trip to Memphis was pretty crazy. We stayed in Tav Falco's [of Panther Burns fame] house. He was out of town at the time. When we first arrived at the house Lorette Velvette was crawling out of the window. She had been Tav's girlfriend, but they had broken up, so she broke into the house to reclaim some of her belongings. Doug Easley's studio [famous for recording Oblivians etc] at that time was in his garage in back of his house. Alex laid on the couch in the studio and slept the whole time we recorded. He did get up to help mix, but after a while he realized that we knew what we wanted and so we pretty much mixed the LP ourselves. We did play a couple of shows while we were there. One of them was attended by the 70 year old guitar player and head of Moon Records, Cordell Jackson. After we played she scolded me about my lewd hip movements! We had a great time in Memphis. Really weird city. Stayed at Alex's place in the country for a couple of days where I listened to all his live Big Star cassette tapes while he was sleeping. He found out just as I removed the last one from the machine and was pretty angry with me. I don't blame him! Alex drove us down to Holly Springs, Mississippi one day to go record shopping, but the place was closed when we got there. All we could do was look through the windows of this funky little old shop with 45's laying around everywhere! The LP only came out on New Rose. Alex got us the deal 'cuz he had records out on that label. We had hopes of getting a European tour out of that deal, but it never happened. That's all we really wanted to do was go to Europe. Alex did well there and he thought we would do well there too. The songs on the New Rose single are "Nitroglycerine" and "Makin' Love" (a Back From The Grave cover song). "Makin' Love" was not on the LP. I don't know how many copies were pressed, but it seems to be our rarest single.

After you had put out your second LP on Crypt you put out some singles that was originally planned as your third LP right? How come it turned into singles?
The singles we did after that weren't gonna be a third LP. There were a few labels that asked for singles, so we just recorded a bunch of songs at one session and put them out on various singles.
There's been rumors of a 'lost single' with "New Orleans" on it – what's going on with that?
New Orleans was recorded at the same session. Mick had a mix of it, but lost the tape, so now we have to remix it. Don't know when it'll come out!
Why'd you break up? Mick said you threw Peg out of the band.. Was she the reason you broke up so many times?
Mick always says that we broke up a bunch of times, but after we put out the third LP with Crypt and did that European tour in Spring of '92 (really our first ever tour), we kicked Peg out of the band. Whenever something happened that she didn't like, she would quit the band, but she would always come back. After a while we got tired of her quitting so we kicked her out. We tried to go on. Tried out a couple of drummers, but by that time I was pretty tired of it. My heart wasn't in it anymore. The Gories did officially break up in 1992 I guess.
You finally got your European tour right at the time when Crypt released "Outta Here". How was that?
Crowds in Europe at first really didn't know at all how to react to us. This was before every American band and their brother was touring over there! I really give alot of credit to Margaret (Doll Rod) for "breaking the ice" with most of the Eurpean audiences. The first show was in Groningen, Netherlands and there we were riotously received because the public there was so much in tune with underground American indie rock 'n' roll that they already knew who we were and our arrival was greatly anticipated. But in the other cities it was Margaret dancing in the audience, right in front of the stage, her excitement, that really showed people how to react and got things going. Once they saw her then it made it ok for everyone to dance and go crazy.
*Larry Hardy on the Gories: I think they're one of the most underrated bandsthat've come  out in the last 10 or 15years. I mean they inspired me to do a recordlabel and and I'm still doin' it.I think they're an inspiration to a lot of people in bands. I don't think theyget the credit they deserve for how brilliant they are or were. I think thestuff was a little too raw and extreme for people at the time. They didn't knowwhat to make of it. But god…it doesn't get better than that. They never cameout here so I've only seen videotapes. Never saw 'em live, but those recordsare just amazing. The chemistry was perfect with those people. Dan's a greatguitar player, Mick's an amazing singer and guitar player. And Peg did what shedid. One of the best rock'n'roll bands ever.*Probablythe last real R'n'B band. (Phone,Spring 1998)
How did you hook up with Crypt records?
The reason we hooked up with Crypt is 'cuz we loved "Back From the Grave" and so I would send Tim rehearsal and live tapes of the Gories in an effort to get him to put out a Gories record. This was even before we had our first LP out. It took him a while to finally agree to do it, 'cuz The Gories were even too raw and inept for him!!!
Tell me about the Bandin' Session.
The guy who put out our 1st LP, Lenny Puch, had Wanghead Records. His recording studio was where the Bandin show was filmed, so the studio you see in that video is the studio where we recorded our 1st LP. The walls of the studio were covered in carpet and Mick felt that the sound was too dead, so we asked if we could move all our stuff into the metal walled machine shop next door and record in there. Which is what we ended up doing.The bandin show was shown on a local cable channel back when cable was like the radio station at the end of the dial. Like in a place where no one would see it. I never actually saw it until years later when someone gave me a videotape of it.
There's also a cool video shot for "Nitroglycerine" – how did that come about?
The Nitroglycerine video was made by a fellow from Detroit named Dan Rose who was and still is a good friend of ours and in fact he and Peggy were married a couple of years ago. He is still a film maker. He was one of the earliest fans of the Gories and one of our early shows was a party at his flat. The video was filmed in Mick's uncle's body shop and that is my car in the video. the girl who dances in it is named Laquita. She was one of Dan's friends from New York city. Dan moved there in 1989. The video may have been shown on TV I don't really know. I'm sure that it was here and there.
After the Gories you were in Rocket 455 right?
Rocket 455 came right after the Gories split up. I had been jamming a bit with this band called the Nervobeats (who ended up putting out an ep on In The Red) and the guitar player of that band, Jeff Meier and I started talking about forming another band. All these Seattle/Sub Pop bands were getting really popular and The Stooges and MC5 names were being thrown around alot so I wanted to do a band that would draw from those influences a little more. I figured Detroit needed a band to reclaim that sound.
Tell me about the "Silky" record you did with with Andre Williams.
The Silky story is probably an interview in itself. I had a great time making that album. Margaret and Andre were really getting along great at that time, and Margaret decided that In The Red would be a good record label for Andre to be on, so she called Larry Hardy and he was of course very into the idea. Andre appointed me as the musical director. It was my job to pick the band. Mick always talked about how he's not really a guitar player he's a drummer, so I decided to ask him to play drums. I had never heard him play a full drum kit before, but he was always beating on something and beating out rhythms constantly, so I knew that he would be good. Once I got Mick in on it then it really became a co-project between Mick, Andre, and myself. Andre had all the lyrics and Mick and I decided what type of songs we were going to do. For example we decided that we would do a Chuck Berry style song, a Jimmy Reed style one, one that sounded like Andre was being backed by the Gories, Mick wanted the Dirtbombs to back Andre on one song, Andre wanted to do a country song so we got a really good Detroit country band called the Volebeats to back him on that one and others came just from sort of jamming in the studio. A few of the songs started with just Mick on drums and me on guitar and then we built the whole song around that. I ended up coming up with a good amount of the stuff myself. In fact the song, "Agile, Mobile, And Hostile" was once described in Mojo magazine as one of Mick's finest moments as a songwriter which really pissed me off because I'm the one that came up with the music for that track! Yeah we did a couple of shows in Detroit with Mick on drums, and we did a lot of the older Fortune era stuff at those shows. It sounded really good. I guess it was raw. It just sounded like us. We made a trip out to New York city around that time to open for Boss Hog and we played Cleveland on the way. That band consisted of Bob "Bootsy X" Mulrooney (who had played drums on one of the songs on Silky) on drums, Margaret on rhythm guitar, Steve Nawara on bass (who at that time was in the pre-Electric Six, Wildbunch) Christine Doll Rod on tamborine and percussion and myself on lead guitar.
..and after that came the Demoliton Doll Rods. You got signed to a bigger label, what was that like?
Well with the Doll Rods style I wanted to explore a little bit more of my Ramones/70's punk and Velvet Underground influences. The Gories were Margaret's favorite band so of course that was a big influence for her I think. Again as in the Gories we could barely play, so necessity was the mother of invention. We had to keep it really simple 'cuz really we had no choice. Well is was exciting being signed to Matador, but although Gerard Cosloy, the guy who ran the label and signed us, seemed to really "get it" as far as the Doll Rods sound and style goes. The people at the label who were in charge of working with us really didn't seem to "get" the Doll Rods.Swami is a great label and John and Thad, the fellows who run the label, "get" the Doll Rods and really sincerely love the band so that makes all the difference in the world.After putting out two albums on Swami that I am very proud of and touring the US and Europe to support them, I have decided to take break from the Doll Rods for an undetermined amount of time. I have been working on a solo album and doing solo shows. I play acoustic and electric guitars and also a one string instrument I made myself called a "diddley bow".
*Don Howland: The Gories were a band that…mighthave  had the potential to, maybe not bethe Ramones but… You know, they definitely could have kept going. They couldhave been a lot more popular. They could have kept going…but in a way it's cooltoo that they didn't. They were exciting, man. They were everything that wasgood about rock music, suddenly…organically coalesce. No sense of we have this,this… You know, it didn't feel like, and it wasn't of course, it wasn't anyfake thing. It was just a perfect rock band. And then again, you had a lot ofgreat 60's garage music in there and then with the beat… You know that Crampsbeat. It's just relentless. You just gotta move.*(July1998, Stockholm)
www.myspace.com/therealgories
www.cryptrecords.com
Discography:
Nitroglycerine 7" (New Rose, 1990) "Nitroglycerine" b/w "Makin' Love"
Here Be The Gories 7" (In The Red, 1991) "Telepathic" b/w "Hate" (The Stoics)
Give Me Some Money 7" (Subpop, 1992) "Give Me Some Money" (Spinal Tap) b/w "You Don't Love Me"
Baby Say Unh! 7" (Estrus, 1992) "Baby Say Unh!" b/w "Idol With The Golden Head" (The Coasters)
To Find Out 7" (Giant Claw, 1992) "To Find Out" (Keggs) b/w "Ichiban"
You Little Nothing 7" (Get Hip,1995) "You Little Nothing" b/w "Casting My Spell" and "Charm Bag"
Split 7" w/ Lord High Fixers (Hate Records, 2000) Live in VERA (Groningen May 7 1992 "Boogie Chillun" and "I Got Eyes For You"
Split 7" w/ Dirtbombs (Fortune Teller Records, 2004) "There But For The Grace Of God Go I" (Machine)
House Rockin' LP (Wanghead With Lips, 1989) House Rockin' LP/CD (Fanclub Records/New Rose, 1989) House Rockin' LP (Crypt, 1994)
I Know You Fine, But How You Doin' LP/CD (New Rose, 1990) I Know You Fine, But How You Doin' LP (Crypt, 1994)
Outta Here LP/CD (Crypt, 1992, CR-030)
I Know You Be Houserockin' CD (Crypt, 1994) Re-release of the first two albums
It Came From The Garage II! LP (Wanghead With Lips, 1987) "Give Me Love" and "You Little Nothing"
Your Invitation To Suicide 2x7" (Get Hip, 1993) "Ghost Rider" (Suicide)
Motor City's Burnin' Vol.2 LP/CD (Total Energy Records, 1999) "Queenie"